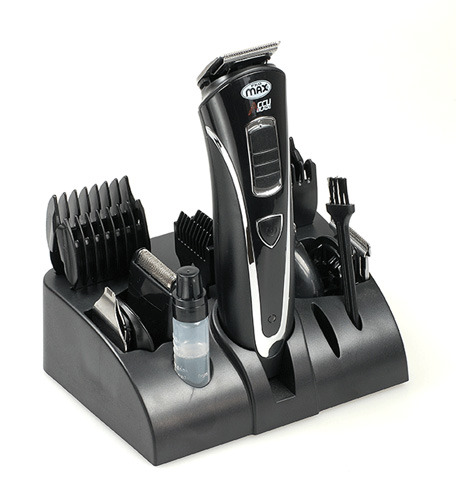 Accu-Blade technology
Rechargeable & Main Operation
High grade stainless steel motor bar
Blade set: Stainless steel
Top blade setting for 3 trim sizes (1,2,3)
Hair cutter (35mm width) + 4 trim guide 3, 6, 9, 12 ( 15 level cutting)
Beard/counter trimmer (25mm width) + trim guides ( 3 trim sizes)
Carve blade: 5mm width
Shaver attachment
Rotary nose trimmer head
Charging: 8 hours ,operation time: 45 minutes
This product is a complete professional grooming and styling set to trim or to style the head, face or all body hair. It has five attachments help to trim or to style in the all of your required shapes and sizes.
The blades of this set are stainless steel and the part which transfers the motor power to attachments is metallic for longer life. The attachments are washable and the unit can be used by wet hand.